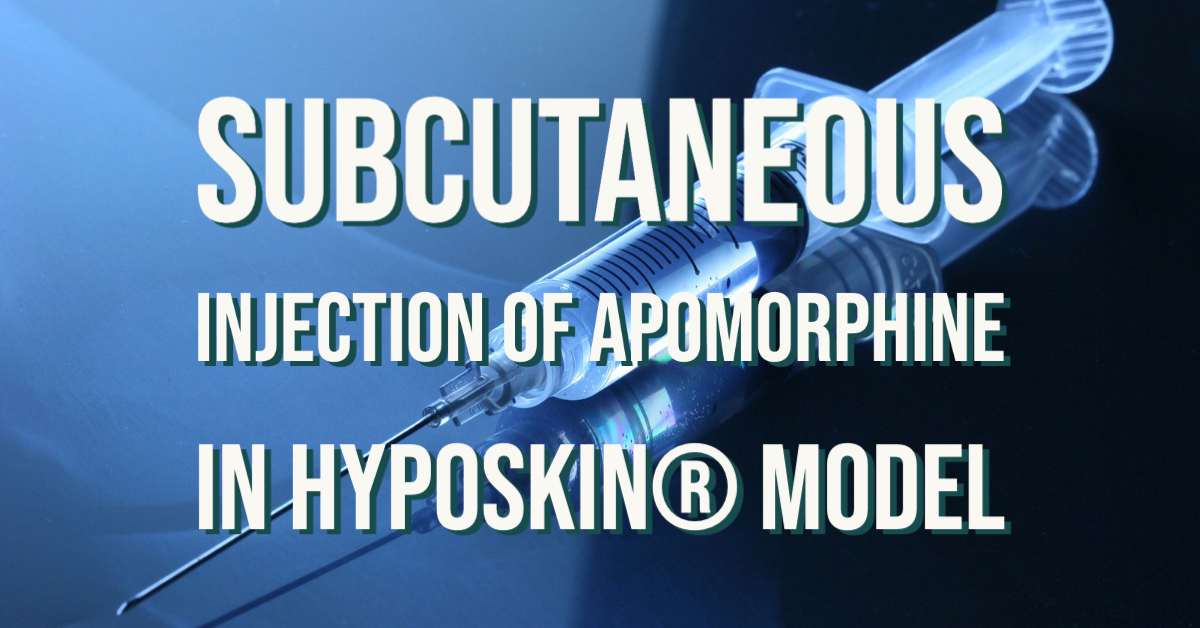 Study of apomorphine-induced panniculitis in HypoSkin® model
Apomorphine is a well-known molecule used in the treatment of Parkinson's disease (PD) symptoms. It is commercially available as apomorphine hydrochloride under the brand names Apokyn or Kynmobi. Apomorphine has the potential to positively impact patients' quality of life.
However, some of its adverse effects are hard to manage and might lead to discontinuation in treatment. To better understand the adverse effects linked to the injection of apomorphine, Genoskin's R&D team studied the impact of apomorphine in HypoSkin®, a preserved human skin biopsy with fat tissue suitable for subcutaneous injections.
Apomorphine, the oldest antiparkinsonian on the market
Apomorphine (Figure 1) was first synthesized by a procedure of morphine acidification by Arppe in 1845 (1). The process was improved by Matthiesen and Wright in 1869 (2). Its efficiency against PD symptoms was then proved in a clinical setting in 1970 by Cotzias et al (3).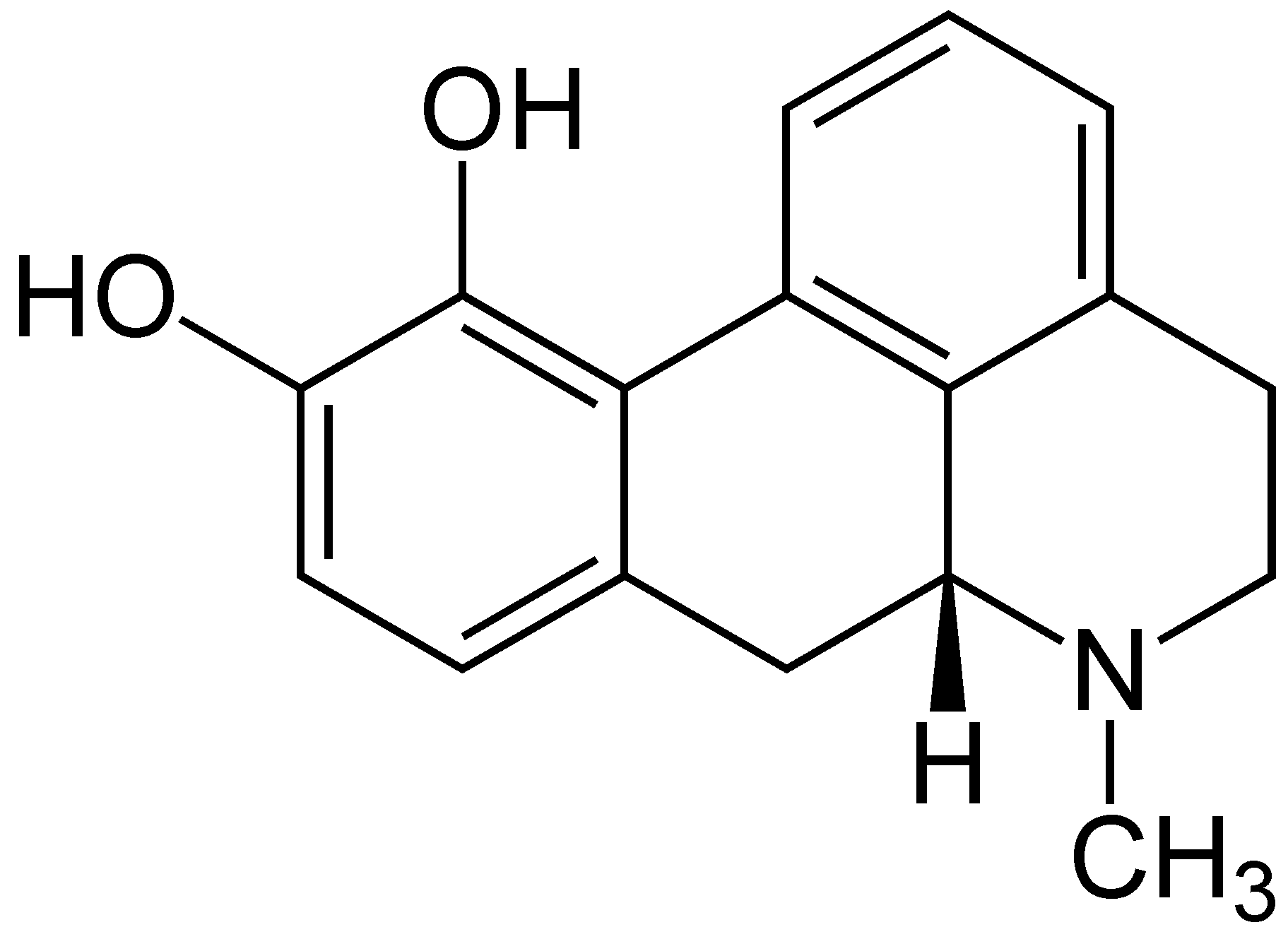 Figure 1. Apomorphine Structural Formula
Apomorphine is a direct-acting postsynaptic and presynaptic dopamine-2 receptor agonist (4).
Historically, the drug has been used for its emetic properties as a treatment for alcoholism (5). Today, it is only indicated for the treatment of people with late-stage Parkinson's disease.
Treatment of Parkinson's disease commonly consists of orally administered levodopa. Levodopa has a longer-lasting effect. However, its efficiency decreases with time. Patients then experience more "off episodes". Those episodes consist of tremors, slowness, stiffness and difficulty moving or walking (6).
Apomorphine is a fast-acting drug. It has a similar effect as levodopa but of shorter duration. Therefore, it has long been used solely for the treatment of acute "off" episodes.
Apomorphine can be administered in two ways:
Intermittent subcutaneous injection (with the use of a pen) to rescue patients from distressing motor and nonmotor symptoms. This method suggests that the patient is capable of self-injection or that a carer is available to act rapidly during "off" episodes.
Continuous subcutaneous apomorphine infusion (CSAI) by pump over waking hours or overnight. It has been shown that CSAI has helped decrease "off" time in patients by 50% to 70%. It can also reduce levodopa-induced dyskinesias and improve neuropsychiatric symptoms. CSAI is a safe and effective treatment for advanced PD and can be used for several years. (7)
Adverse effects of apomorphine leading to treatment discontinuation
Apomorphine can improve patients' quality of life by reducing off times. However, its adverse effects can be a source of treatment discontinuation.
It has been estimated that 89% of apomorphine-treated patients experience at least one adverse event. At least 1 in 10 discontinues treatment because of adverse events.
Adverse events include blood eosinophilia, cutaneous lesions, severe nausea and vomiting and hypotension. Psychiatric symptoms may occur at high dosages and with continuous infusion. (8)
Nausea and hypotension can be prevented by pretreatment with domperidone, a peripheral dopaminergic antagonist. (7)
Genoskin studied the cutaneous lesions that appear around the injection sites. Cutaneous fibrous nodules usually appear after continuous apomorphine infusion (Figure 2). A nodule typically forms within a few hours after infusion of apomorphine. (9)
Nodules can sometimes resolve by themselves within a few weeks, but some can form permanent hardened areas. Nodules may also become infected, necessitating antibiotic treatment or surgical intervention.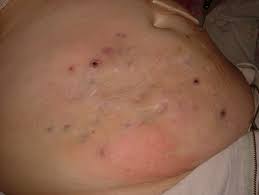 Figure 2. Representative photograph of an affected abdomen showing surface bruising and scarring, erythema and necrosis after infusion of apomorphine. From Poltawski et al., British Journal of Neuroscience Nursing. 
Histological studies have concluded that apomorphine nodules are a form of panniculitis, a local inflammation in the subcutaneous fat tissue. (9)
Nodules formation can be painful. It also reduces the availability of injection sites, especially when they spread wider. Besides, they may prevent drug absorption and reduce its efficacy. These can be reasons for the discontinuation of apomorphine treatment.
Nodule formation and healing can be managed with infusion-siting and needle-changing good practices. Therapeutic ultrasound could also help in the treatments of nodules.
Genoskin's study of apomorphine adverse effect at the injection site
Genoskin studied the adverse effects caused by apomorphine at the injection site on HypoSkin® models.
The objective of the study was to reproduce ex vivo the process of apomorphine-induced panniculitis. To better understand how and why such adverse reaction occurs. The aim of the project was also to precisely decipher the kinetics of macroscopic alterations.
We used HypoSkin® XL, a 23mm diameter round skin biopsy with epidermis, dermis, and hypodermis embedded in a proprietary solid matrix. HypoSkin® is the first and only injectable ex vivo human skin assay that remains fully immunocompetent for several days.
The first part of the study consisted of capturing the timelapse sequence of skin lesions formation. It was performed on one donor. The biopsy was injected with 1mg of apomorphine and then cultured in standard cell culture conditions (37C, 5% CO2, max. humidity) for 3 days. Pictures were taken automatically every ten minutes throughout the study.
Within a few hours of injection, we could observe the formation of a dark spot surrounding the injection site. This observation is consistent with clinical observation and the appearance of nodules.
To further investigate the reaction at the injection site, the second part of this study will consist of histological analysis of biopsies injected with apomorphine to detect the tissue integrity and inflammation in models. A TUNEL assay will also be performed to detect the presence of apoptosis in skin models. Cytotoxicity will also be assessed by analyzing the release of lactate dehydrogenase (LDH) in the culture medium.
Which mechanism lies behind the reaction to apomorphine? How does it affect the skin? Can we treat the nodules in a different, more efficient way? Stay tuned to find out. Answers to these questions could improve the management of apomorphine treatment.
References
Arppe AE. Ueber eine merkwürdige Veränderung des Morphins durch Schwefelsäure. Liebig's Annalen der Chemie und Pharmacie 1845;LV:96
Mathiesen, A., and C. R. Wright. 1869. "Apomorphine." Proc. R. Soc. Med. 17:455.
Cotzias, George C., Paul S. Papavasiliou, Clas Fehling, Barry Kaufman, and Ismael Mena. 1970. "Similarities between Neurologic Effects of L-Dopa and of Apomorphine,." New England Journal of Medicine 282 (1): 31-33
Delgado, Pedro L., and Dennis S. Charney. 1991. "Chapter 5 – Neuroendocrine Challenge Tests In Affective Disorders: Implications For Future Pathophysiological Investigations." In Biological Aspects of Affective Disorders, 145-190. N.p.: Neuroscience Perspectives.
Beil, H., and A. Trojan. 1977. "The Use of Apomorphine in the Treatment of Alcoholism and other Addictions: Results of a General Practitioner." British Journal of Addiction to Alcohol & Other Drugs 72:129-134
Ahlskog, J. E., and M. D. Muenter. 2001. "Frequency of levodopa-related dyskinesias and motor fluctuations as estimated from the cumulative literature." Mov Disord. 16 (3): 448-458
Meara, Jolyon. 2010. "CHAPTER 64 – Parkinsonism and Other Movement Disorders." In Brocklehurst's Textbook of Geriatric Medicine and Gerontology, edited by Howard M. Fillit, Kenneth Rockwood, and Kemmeth Woodhouse, 511-519. 7th ed. N.p.: W.B. Saunders.
Auffret, M., S. Drapier, and M. Vérin. 2018. "Pharmacological Insights into the Use of Apomorphine in Parkinson's Disease: Clinical Relevance." Clinical Drug Investigation 38 (4): 287-312.
Poltawski, Leon, Hazel Edwards, Amy Todd, Tim Watson, Cherry-Ann James, and Andrew Lees. 2008. "Cutaneous side effects of infused apomorphine: The patient and carer experience." British Journal of Neuroscience Nursing 4 (12): 576-580
Comments are closed.