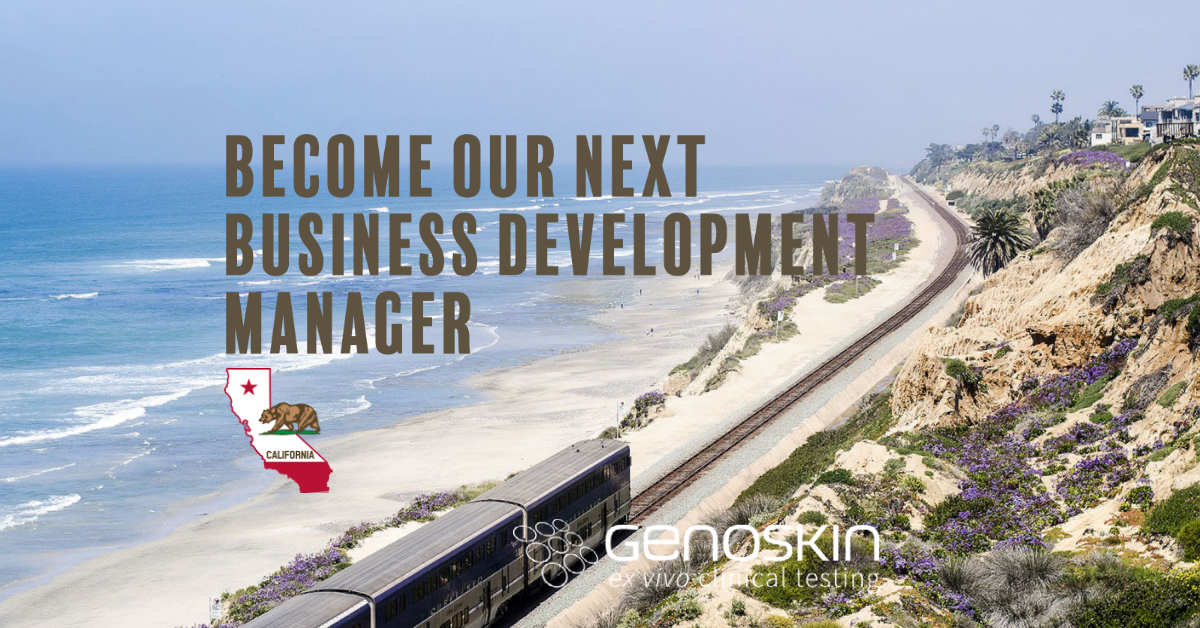 Join Genoskin! We are looking for a Business Development Manager in California!
Genoskin is looking for a Business Development Manager in California, US. Become the newest addition to our amazing team.
Reference: GNSKN_US09
Location: California, USA
Type of position: Full time
Who we are:
Genoskin is a biotechnology company started in 2011. The company has offices and labs in Toulouse (France) and Boston (USA). We are experts in human skin. We develop and commercialize ready-to-use, standardized ex vivo human skin models testing kits with live human skin. Our products are designed for research in the pharmaceutical, biotech, MedTech, cosmetic, and the chemical sector as well as for academic institutions.
With our unique and patented technology platform, as a contract research organization, we also accelerate research and de-risk the development of pharmaceutical, biotech, cosmetic, chemical, or medical device products. As an alternative to animal testing, we empower our global customers to continue to meet stringent regulatory and ethical requirements. We recently launched the first human skin model that can sustain subcutaneous injections.
Position overview:
Genoskin is seeking an outstanding BD professional to join its growing US team. The full-time role will focus on developing and supporting our portfolio of partners on the West Coast. You will be based in the Bay area where we are opening an office, and you will work closely with our sales and operations teams based in Boston to support the growth of the company.
Main Roles and Responsibilities: 
Demonstrate and promote the company vision
Regular attendance and punctuality
Applies GMP/GLP in all areas of responsibility, as appropriate
Drive sales within the territory for ex-vivo models & services supporting Genoskin growth objectives.
Work closely with other members of the global Genoskin Sales, Scientific Director, Project Management and Operational Leads to drive business.
Apply specific growth objectives through coordination of selling efforts and targeted sales plans.
Maintain a high level of technical and application competence and utilize this knowledge in a manner that will enable him/her to personally add value to driving business and promoting and maintaining high levels of customer satisfaction.
Commonly answers non-routine questions regarding human skin models as a mechanism to drive Business Development.
Act as the Sales team Lead in partnership with Marketing and MARCOM teams in the implementation of tactical plans supporting tradeshows and other regional events.
Directs implementation of multidisciplinary strategies to effectively manage governance processes with key pharmaceutical partners.
Conducts all activities in a safe and efficient manner.
Performs other duties as assigned
Preferred Education & Experience:
MS in Histology, Toxicology, Genetics, Molecular Biology, Cellular Biology, Biochemistry with demonstrated experience in research.
Demonstrated experience in driving business through collaborations with both field Sales team and internal Operational team. Excellent knowledge of the Biotech / Pharmaceutical Market and capability to analyze the business to provide guidance to the Management team in order to drive product development opportunities.
Exceptional selling, organization, negotiation and communication skills.
Experience in the implementation of tactical marketing plans.
Previous experience managing Sales (3 years minimum) in CA accounts. No relocation.
Disclaimer:
Principals only. No resumes accepted from third parties. This position description is written as a guideline to inform prospective employees of what is generally expected of them at each job level. The description is not intended to be all-encompassing or limiting in any manner; rather, it is hoped it will add understanding and better reflect the work performed at all levels of employment. Duties and responsibilities other than those listed may be included as needed within the workgroup or the company as a whole.
Office location: California
Travel requirements: West Coast mostly
How to apply: send resume to
Comments are closed.