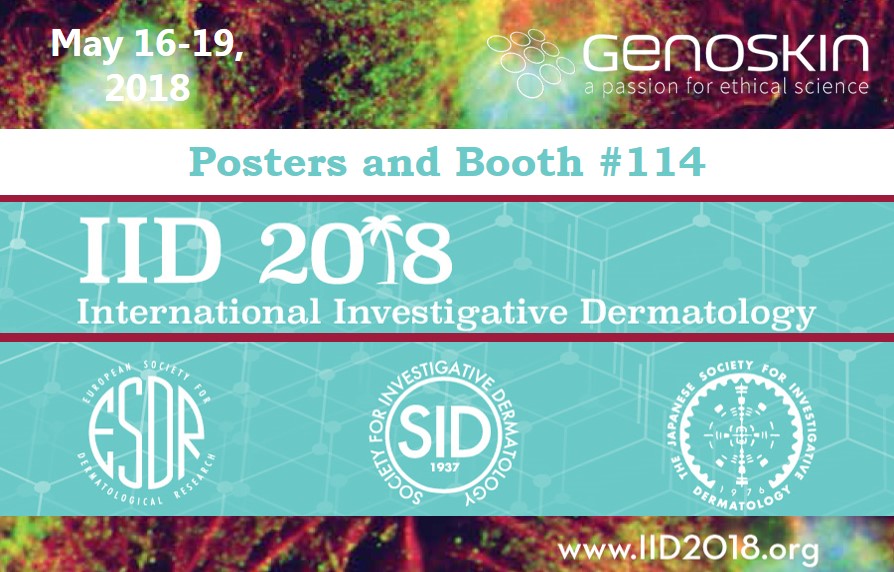 Genoskin to attend International Investigative Dermatology Meeting in Orlando, Florida
IID is a leading event in the field of dermatology. The 2018 edition will take place from May 16th to 19th at the Rosen Shingle Creek Resort.
Genoskin's CEO Pascal Descargues, PhD as well as Project Manager Emeline Pages, PhD, Team Leader Claire Jardet, PhD and Business Developer Michael Pastore, PharmD/PhD will attend the International Investigative Dermatology 2018 meeting and hold Booth #114. The team will also have four posters presenting Genoskin's unique ex vivo human skin model technologies and their applications:
NativeSkin®, an immunocompetent human skin model
Poster title: "NativeSkin®, an immunocompetent human skin model to study antigen uptake and processing by Langerhans cells" (Poster n°091, presented by Emeline, in partnership with DBV Technologies). NativeSkin® is a patented human skin model reproducing the complexity of real live human skin. It allows culture, treatment and manipulation of human skin for research and analysis. This model can be used to predict human skin response to treatments. In particular, the presence of immune cells enables the study of allergen uptake during epicutaneous immunotherapy.
InflammaSkin®, human psoriasis skin model
Poster title: "Evaluation of pharmacological responses in InflammaSkin®, a fully human full-thickness ex-vivo skin model reproducing key features of psoriatic lesions" (Poster n°988, presented by Claire, in partnership with LEO Pharma). InflammaSkin® is a T-cell driven ex vivo human psoriasis skin model to test anti-inflammatory drugs. This skin model can be used to assess pharmacological responses following topical prophylactic and therapeutic treatments.
HypoSkin®, skin model for subcutaneous injections
Poster title: "Evaluation of local inflammatory reactions following subcutaneous injection of a pro-inflammatory cocktail in a fully human ex vivo skin model" (Poster n°LB1552, presented by Pascal, in partnership with AstraZeneca). HypoSkin® is the only human skin model to study subcutaneous injections. It contains all three layers of human skin, i.e. epidermis, dermis and hypodermis with normal fat tissue architecture.  This model enables the evaluation of local inflammatory reactions following subcutaneous injection of formulations.
Poster title: "3D imaging of cleared ex vivo normal human skin, skin appendages and psoriasiform skin lesion using light-sheet microscopy" (Poster n°LB1605, presented by Michael, in partnership with Syntivia and ITAV). Light-sheet fluorescence microscopy (LSFM) is an attractive approach that has shown promise for acquisition of volumetric data of thick tissues. When combined with optical clearing methods, LSFM allows in-depth optical sectioning and generation of 3D images of entire human skin biopsies.
About International Investigative Dermatology

The IID is organized every five years since 1998 by the Society for Investigative Dermatology (SID), the Japanese Society for Investigative Dermatology (JSID) and the European Society for Dermatological Research (ESDR). This event has been created following several international meetings from the different dermatology societies which highlighted the importance of unity for all of investigative dermatology. It brings together scientists from all over the world, alternating among sites in Japan, Europe and the United States. The last editions were held in Miami, Florida (2003), Kyoto, Japan (2008) and Edinburgh, Scotland (2013).

The IID2018 program announces many special symposia on dermatologic research, the study of various diseases such as eczema, atopic dermatitis, psoriasis, acne, rosacea and cutaneous lymphomas. Other topics include cutaneous surgery, skin microenvironment and microbiome. Several poster sessions are scheduled.
Should you like to join Pascal, Emeline, Claire and Michael at IID2018, please let us know.
To keep up-to-date with Genoskin's latest news, follow us on Twitter and LinkedIn or subscribe to our newsletter. You can also contact us to learn more about our activities and services.
Comments are closed.