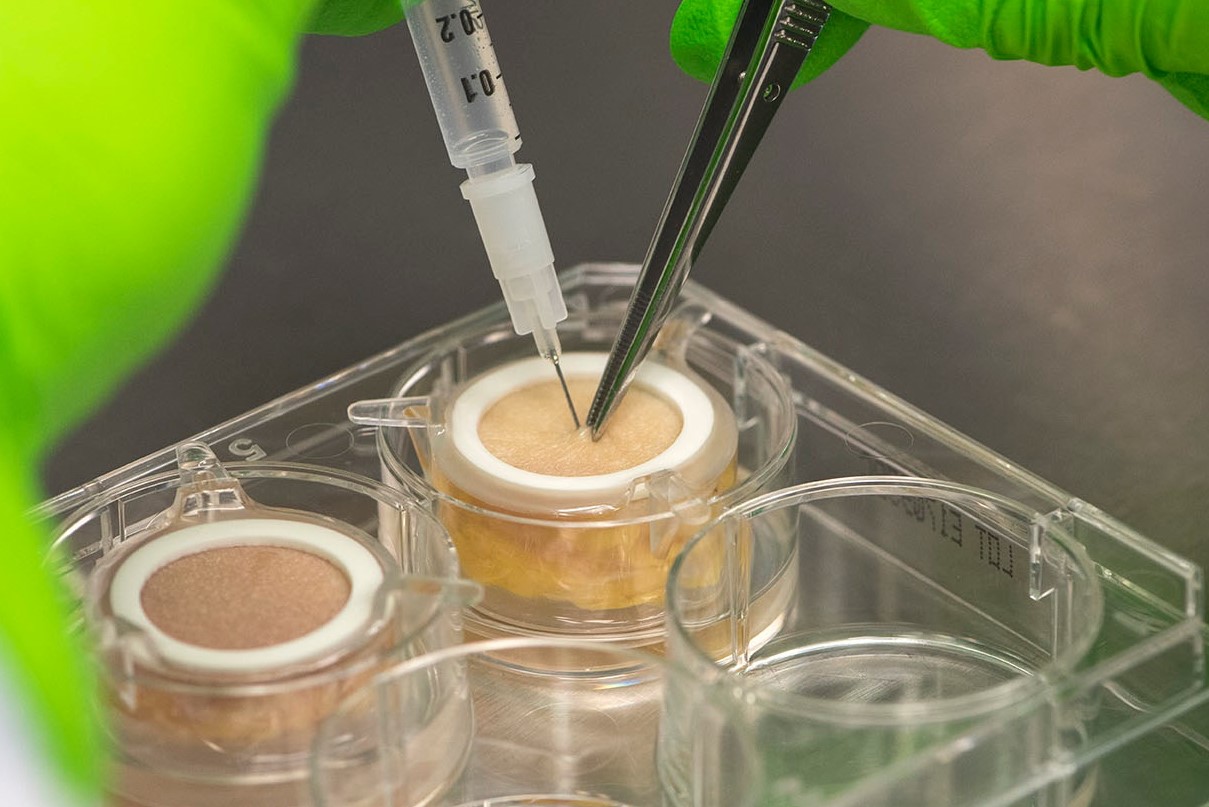 Genoskin recruiting for Skin Immunotoxicology R&D and Innovation Manager
Who we are:
Genoskin (genoskin.com) is a biotechnology company that was created in 2011. The company is based in Toulouse (France) and also has an office in Salem, MA (Boston area, USA). Genoskin is a leader and pioneer in standardized human skin biopsies for ex vivo clinical testing. Thanks to a patented and unique technology platform, Genoskin accelerates the development of pharmaceutical, cosmetic and chemical products as well as biologics and medical devices, while minimizing the risks. Our constant R&D efforts helped us market the first human skin model that includes the hypodermis layer. This model is designed to test subcutaneously administered products, such as biologics. Our technology also offers a reliable alternative to animal testing in order to enable our clients to comply with regulatory and ethical requirements.
Who we're looking for:
Genoskin is recruiting for an R&D and Innovation Manager for our site in Toulouse. We're looking for someone with high-level expertise in skin immunotoxicology. You'll report directly to our USA-based CEO.
Your missions:
Establish and implement the research and development strategy for new products and services, in collaboration with the company's management team,
Define and manage the entire R&D budget,
Supervise R&D activity and the research team,
Advise customers, develop high-quality scientific relationships with them and set up the studies required to evaluate their compounds,
Supervise the follow-up of ongoing customer studies while respecting the established timeframe and the company's quality policy,
Analyze and validate the obtained results,
Draw up scientific documents (presentations, reports, publications…)
Pilot the entire funding process: regional, European and national funding (tax credit programs, such as Crédit Impot Recherche)…
Represent the company and present results during customer visits, national and international scientific events…
 Your experience:
You have at least 5 years of experience in a similar R&D management position or in R&D team management, with significant accomplishments in biotechnology, pharmaceutical, CRO or product/service companies in the biotech/preclinical/immunology/toxicology field. You have a significant track record in scientific publications and an internationally established academic R&D network.
Your profile:
Confirmed entrepreneurial spirit and leadership skills, that can be adapted to a growing startup
You have excellent interpersonal skills and are customer service minded
Autonomy, dynamism, responsibility and efficiency
Solid scientific knowledge in immunology, cell and tissue biology: injection site reactions, inflammation, hypersensitivity, local allergies…
Fluent English speaker
International experience is preferred
Qualifications:
PhD + post-doctorate with internationally recognized expertise in human skin immunology
Location: Centre Pierre Potier, 1 place Pierre Potier, 31100 Toulouse, France
Business travel: This position requires travels in France and abroad
Contact us now:
Genoskin recrute un Responsable R&D et Innovation expert en immunotoxicologie cutanée
Nous :
Genoskin (genoskin.com) est une entreprise de biotechnologie créée en 2011. L'entreprise est basée à Toulouse (France) et à Salem, MA (région de Boston, USA).
Genoskin se positionne comme leader et pionnier de l'utilisation standardisée de biopsies de peaux humaines pour la réalisation de tests cliniques ex vivo. Grâce à sa plateforme technologique unique et brevetée, Genoskin accélère et minimise les risques liés au développement de produits pharmaceutiques, biologiques, cosmétiques, chimiques ou dispositifs médicaux.
Nos efforts constants en R&D nous ont permis de mettre sur le marché le premier modèle de peau humaine contenant de l'hypoderme. Ce modèle est destiné à tester des produits administrés par voie sous-cutanée, comme les « biologics ».
Enfin, nos technologies sont aussi des alternatives fiables à l'expérimentation animale. Nous donnons ainsi à nos clients les moyens de répondre aux exigences réglementaires et éthiques.
Vous :
Genoskin recrute sur son site de Toulouse, un responsable R&D (PhD) et innovation ayant une forte expertise en immunotoxicologie cutanée. Vous reporterez directement au Président basé aux USA.
Vos missions :
Avec la direction de l'entreprise, construire et mettre en place la stratégie de recherche & développement de nouveaux produits et services
Construire le budget pour l'ensemble de la R&D
Superviser les activités R&D et diriger une équipe de chercheurs
Conseiller les clients, développer des relations scientifiques de qualité avec eux et mettre en place les études appropriées permettant d'évaluer leurs composés
Superviser le suivi des études clients en cours, dans le respect des délais et de la politique Qualité de l'Entreprise
Analyser et valider les résultats obtenus,
Rédiger des documents scientifiques (présentations, rapports, publications, …)
Piloter l'ensemble des processus d'obtention des financements : Crédit Impôt Recherche, Financements régionaux, Européens…
Représenter la société et présenter des résultats lors de visites clients, de manifestations scientifiques nationales et internationales
Votre expérience:
Vous avez au moins 5 ans d'expérience dans un poste similaire de direction R&D ou de management d'équipe de recherche, avec des réalisations significatives dans des entreprises de biotechnologies, pharma, CROs ou sociétés de service/produit en biotech/préclinique/immunologie/toxicologie. Vous avez un track record significatif de publications scientifiques et un réseau scientifique académique international.
Vos qualités:
Esprit entrepreneurial et leadership affirmé, adaptable à une startup en croissance
Excellent relationnel et sens du service
Autonomie, dynamisme, responsabilité et efficacité
Connaissances scientifiques solides (Immunologie, biologie cellulaire et tissulaire, immunotoxicologie : réaction au site d'injection/inflammation, hypersensibilité, allergie locale…)
Anglais courant
Expérience internationale préférée
Lieu : Centre Pierre Potier, 1 place Pierre Potier, 31100 Toulouse
Déplacements : A prévoir, en France et à l'international
Candidatez maintenant!
Comments are closed.